F for… Fancy
"Fancy" is one of those elastic words that can serve many purposes, as a verb, a noun, an adjective, and it comes in numerous and varied phrases.
In my old dictionary, I came across "to fancy oneself", which is a pretty alternative for "conceited", and "fancywork" for needlework or lace. I fancy this!
Fancy – fantasievoll, aber nicht nur!
"Fancy" ist eines jener sehr elastischen Wörter die im Englischen als Verb, als Nomen und als Adjektiv verwendet werden können, mit zahlreichen feststehenden Wendungen.
Mein altes Wörterbuch führt unter anderem "to fancy oneself" auf, "sich selbst toll finden", eine hübsche Alternative zu "eingebildet", und "fancywork" für (Nadel)-Spitze. Das gefällt mir!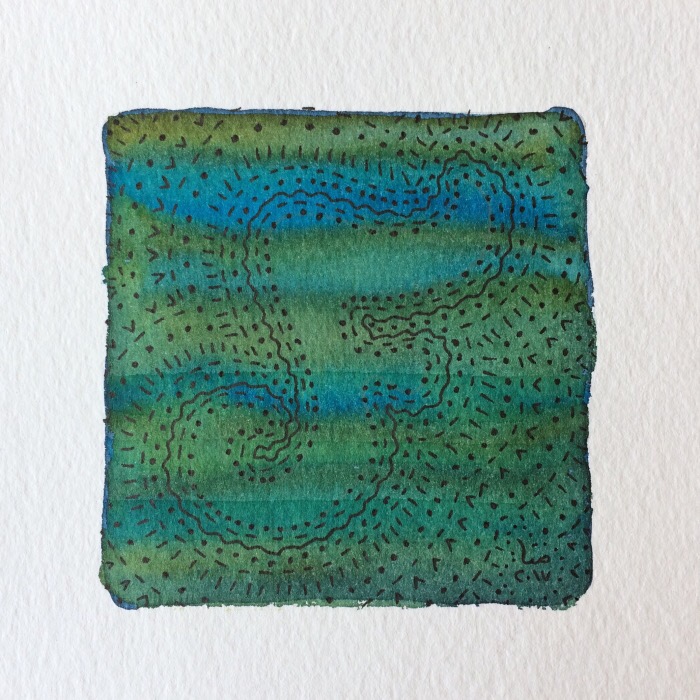 Textilfarben und Pigmenttinten auf Aquarellpapier 300g/m2, 15cm x 15cm
Dyes and pigment inks on watercolour paper 300g/m2, size: 15cm x15cm 
©Marie-Christine Chammas – alle Rechte vorbehalten – all rights reserved