H für… Holzweg
Die Versuche, meine Alefbaba-Alphabete in Stickdateien umzusetzten, waren bislang eher unergiebig. Es hatte etwas von dem Versuch, einem einfachen elektrischen Synthesizer den Klang eines Flügels zu entlocken.
Zu erkennen, dass man auf dem Holzweg ist eröffnet jedoch neue Horizonte.
Mit meinem Alefbaba-Projekt geht es also erstmal weiter, mit freihand Stickarbeiten. Ob in loser oder regelmäßiger Folge wird sich noch zeigen.
auf dem Holzweg sein  = to be on the wrong track
My efforts at digitizing my Alefbaba-alphabets for embroidery have been rather fruitless, like trying to make a cheap synthesizer sound like a grand piano.
Realizing you're on the wrong track opens up new perspectives.
So now I'm looking forward to resuming my Alefbaba project with freehand embroidery.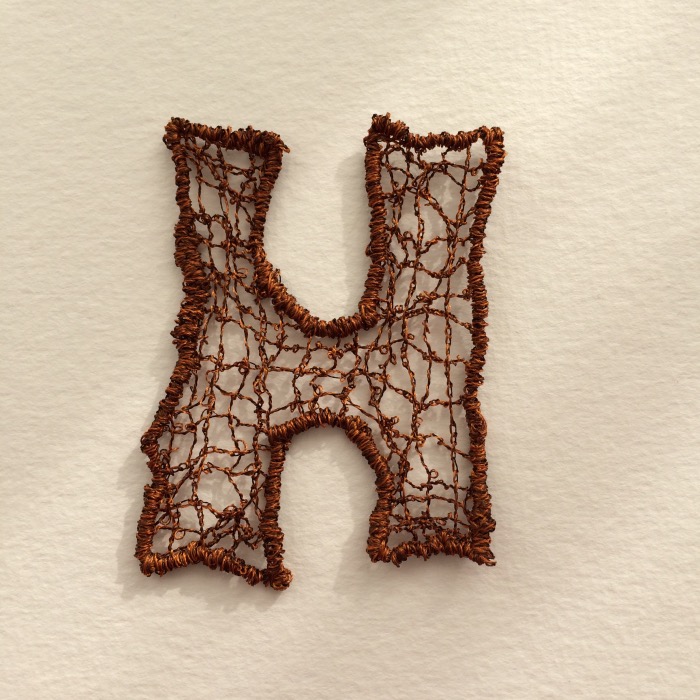 Freihand Stickspitze, Größe: 8cm x 6cm
Freehand machine lace, size: 8cm x 6cm 
©Marie-Christine Chammas – alle Rechte vorbehalten – all rights reserved