R for… Royal Blue!
So we're finally there. It surprizes me to see how much writing can be done with just a drop of ink or two. The Royal Blue ink does flow more freely, but then, watercolour paper is not the most appropriate surface to write on with a fountain pen. A smooth silky paper would do much better.
Royal Blue – Königsblau
Endlich geschafft! Es überraschte mich zu erleben, wie weit man noch mit einem oder zwei Tropfen Tinte kommt. Mit der königsblauen Tinte schreibt es sich schon etwas besser, aber Aquarellpapier mit seiner rauhen Oberfläche ist für Füller nicht besonders gut geeignet. Ein glattes, seidiges Papier wäre hier das Papier der Wahl.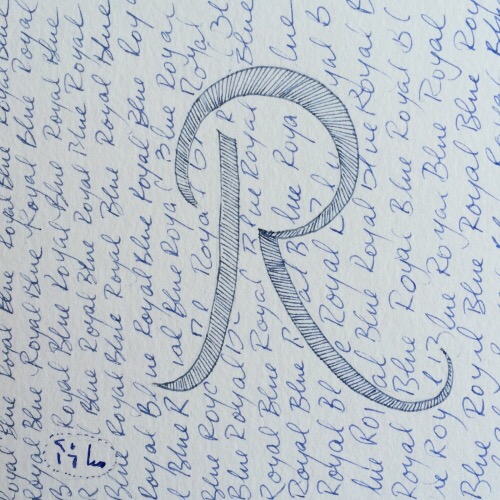 Tinte auf Aquarellpapier 300g/m2, 15cm x 15cm
Ink on watercolour paper 300g/m2, size: 15cm x15cm 
©Marie-Christine Chammas – alle Rechte vorbehalten – all rights reserved