B for… Binding
The least exciting part in making a quilt is attaching the binding. But still, this mostly tedious task is rewarding in the end, because when you're done, you're really done, you can release a quilt and move over to the much more exciting part of designing, planning and quilting a new one!
Binding – Binding, Einfassstreifen eines Quilts
Der am wenigsten spannende Teil bei der Herstellung eines Quilts ist das Annähen des Einfassstreifens. Und doch ist diese mühsame Aufgabe am Ende befriedigend, denn wenn man fertig ist, ist man wirklich fertig. Man kann dann einen Quilt in die Welt entlassen und sich der wesentlich interessanteren Arbeit widmen, einen neuen Quilt zu entwerfen, vorzubereiten und zu quilten.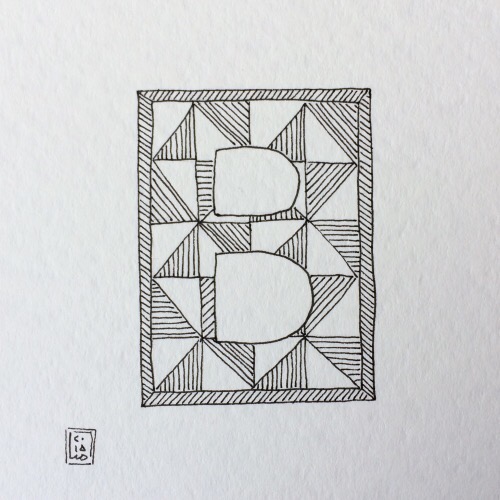 Pigmenttinte auf Aquarellpapier 300g/m2, 15cm x 15cm
Pigment ink on watercolour paper 300g/m2, size: 15cm x 15cm 
©Marie-Christine Chammas – alle Rechte vorbehalten – all rights reserved