L for… Loreley
When travelling by train along the Rhine, at some point you come across a spot called Loreley, where, according to the legend, a beautiful woman would sit and comb her gorgeous hair, and the poor sailors and fishermen would lose their mind and crash against the rocks in the turbulent waters of the Rhine bend.
I cannot remember all of the story, but when travelling along, my ears hear Ella Fitzgerald, in concert in Berlin in the late fifties, performing "The Loreley". The recording is fantastic, and I wonder if she ever saw the place.
Wann immer ich südlich von Köln die wunderschöne Rheinstrecke mit dem Zug entlangfahre und und an der Rheinbiegung bei der Lorelei vorbeikomme, klingt in meinem Ohr Ella Fitzgeralds "The Loreley", eine entzückende Aufnahme von ihrem Konzert in Berlin in den späten 50er Jahren. Ob sie jemals da entlanggefahren ist?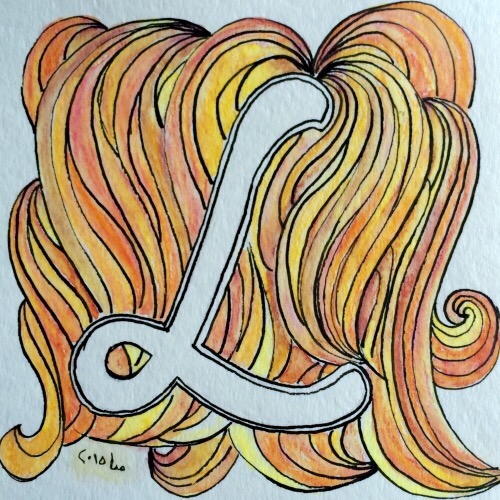 Pigmenttinte und Aquarellstifte auf Aquarellpapier 300g/m2, 15cm x 15cm
Pigment ink and watercolour pencils on watercolour paper 300g/m2, size: 15cm x 15cm
©Marie-Christine Chammas – alle Rechte vorbehalten – all rights reserved