E for… Elephant Ears
My interest for food also sparked many drawings. In many parts of the world, fried pastry of some sort allows for an affordable treat. One of those is Elephant Ears from Afghanistan. Light rounds of very thin, crisp dough dusted with sugar and a hint of cardamome make a lovely dessert.
Elephant Ears – Elefantenohren
Mein Interesse für Nahrung hat ebenfalls zahlreiche Zeichnungen inspiriert. So gibt es etwa in vielen Weltgegenden Gebäck aus frittiertem Teig, als erschwingliche und weit verbreitete Nascherei. Dazu zählen die Elefantenohren aus Afghanistan. Es handelt sich hierbei um größere Kreise aus leichtem, knusprigen Teig der mit Zucker und Kardamon bestreut wird. Köstlich!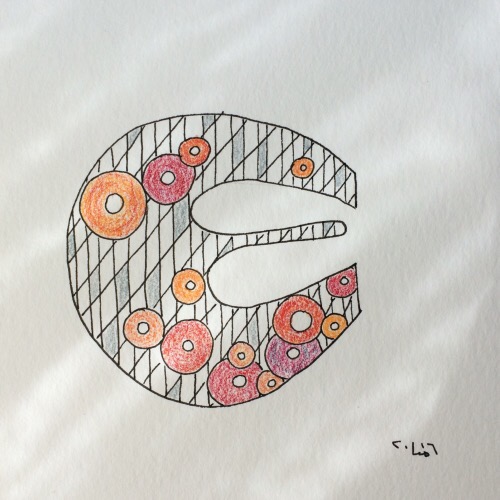 Pigmenttinte und Farbstifte auf Aquarellpapier 300g/m2, 15cm x 15cm
Pigment ink and colour pencils on watercolour paper 300g/m2, size: 15cm x15cm 
©Marie-Christine Chammas – alle Rechte vorbehalten – all rights reserved