Osterei armenisch
Ein typisches Essen am Karfreitag im Nahen Osten ist Mujaddara, Linsen mit Reis, mit einem Berg aus knusprigen, frisch gebratenen Röstzwiebeln obendrauf.
Armenische Ostereier werden in einem Sud aus den Zwiebelschalen hartgekocht und haben eine wunderbare orange-braune Farbe. Dafür braucht es sehr viele Zwiebelschalen, die bei der Bereitung des Karfreitagsessens anfallen. Das ist wirklich eine restlose Verwertung der Ressourcen.
Armenian Easter Egg
A typical food on Good Friday in the Middle East is Mujaddara, lentils with rice, with a very generous topping of crisp, freshly fried onions.
Armenian Easter eggs are boiled in a brew with onion skins, the result is a beautiful, rich brown-orange. It takes quite a lot of onion skins to achieve this dye intensity, but then, you already have a big pot of onion skins from peeling onions for the mujaddara topping.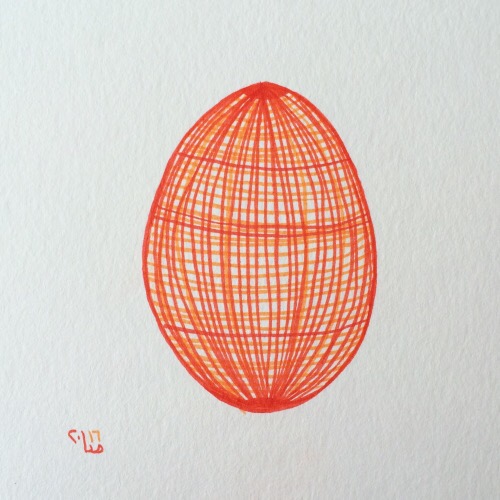 Pigmenttinten auf Aquarellpapier 300g/m2, 15cm x 15cm
Pigment inks on watercolour paper 300g/m2, size: 15cm x15cm 
©Marie-Christine Chammas – alle Rechte vorbehalten – all rights reserved