H for… Hoop
To hoop or not to hoop – now That is a question!
Whereas hooping fabric for hand embroidery can be very useful with embroidery on counted threads, it also can help to achieve good tension. Working "in the hand", without a hoop, lets you manipulate the fabric much easier.
With free motion machine embroidery, hooping the fabric is a must, otherwise you might end up with a puckered something, due to the technically required thread tension.
Hoop – Stickrahmen
Es wird reichlich diskutiert, ob man beim Handsticken einen Stickrahmen verwenden soll.
Während ein Stickrahmen hilfreich ist, um bei Handstickereien über gezählte Fäden den Überblick zu behalten, kann er auch dazu dienen, eine gute Fadenspannung beizubehalten. Allerdings lässt sich Stoff ohne Stickrahmen viel einfacher handhaben.
Für Freihand-Maschinenstickerei ist ein Stickrahmen unerlässlich, da man aufgrund der notwendigen Fadenspannung ansonsten ein ziemlich gekräuseltes Etwas erhält.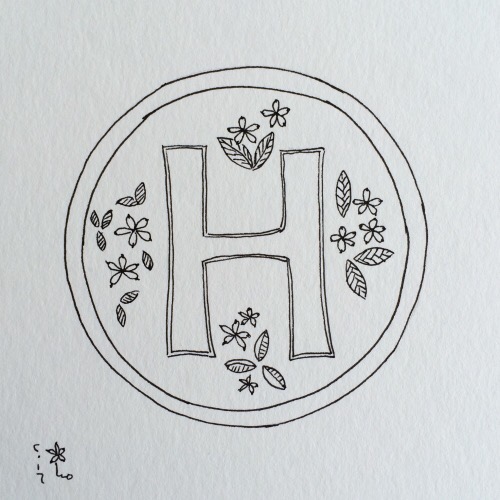 Pigmenttinte auf Aquarellpapier 300g/m2, 15cm x 15cm
Pigment ink on watercolour paper 300g/m2, size: 15cm x15cm 
©Marie-Christine Chammas – alle Rechte vorbehalten – all rights reserved