b für… backen
In vielen Kulturen ist Backen wesentlicher Bestandteil der Vorbereitungen auf einen festlichen Höhepunkt im Jahreslauf.
Während in Deutschland die Adventsbäckerei der Vorweihnachtszeit legendär ist, wird in den christlichen Familien des nordöstlichen Mittelmeerraums für Ostern gebacken.
In den arabischen Familien werden insbesondere bergeweise Maamul und Aqras gebacken, kleine Köstlichkeiten aus Mehl, Butter und Zucker, gefüllt mit Pistazien, oder Walnüssen, oder Datteln, und während der Ostertage den zahlreichen Besuchern serviert.
backen – to bake
In many cultures it is common to bake special treats for special holidays.
Whereas in Germany the big baking sessions are specific to Christmas, in the eastern Mediterranean families prepare for Easter as a special holiday.
Arabic families bake mountains of maamool and aqras, delicious small pasties made of flour, butter and sugar, filled with pistachios or walnuts or dates, served to the numerous visitors during Easter days.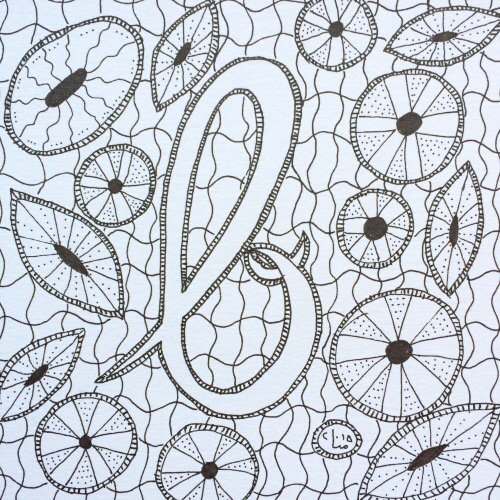 Pigmenttinte auf Aquarellpapier 250g/m2, 15cm x 15cm
Pigment ink on watercolour paper 250g/m2, size: 15cm x 15cm
©Marie-Christine Chammas – alle Rechte vorbehalten – all rights reserved