Bā für… بربارة = barbāra
Barbara: 4. Dezember
In vielen arabisch-christlichen Gemeinden im Vorderen Orient wird am 4. Dezember mit dem Barbarafest das Licherfest des beginnenden Winters gefeiert. Die Kinder verkleiden sich und ziehen singend von Haus zu Haus um Süßigkeiten oder kleine Münzen zu ergattern, und am Abend versammeln sich die Familien in einem mit vielen Kerzen hell  erleuchteten Raum. Es gibt traditionell eine süße Weizenspeise, viel frisches Obst (Orangen, Mandarinen, Äpfel, Granatäpfel) und regional noch unterschiedliches Gebäck. Es ist – oder war – ein sehr ausgelassenes und fröhliches Fest.
Barbara: December 4th
In many arabic christian communities in the Middle East, Barbara is – or was – the most important annual festival for children. In the afternoon and early evening, children would put on disguise and ugly masks and wander from house to house singing and dancing and collecting treats (no tricks here!), and later, the families would gather in a room brightly lit with candles, around tables traditionally loaded with large bowls of sweet cooked whole wheat, garnished with nuts, almonds, pomegranate seeds, there would be mountains of apples and oranges, and additionally some special regional sweets specific to the occasion.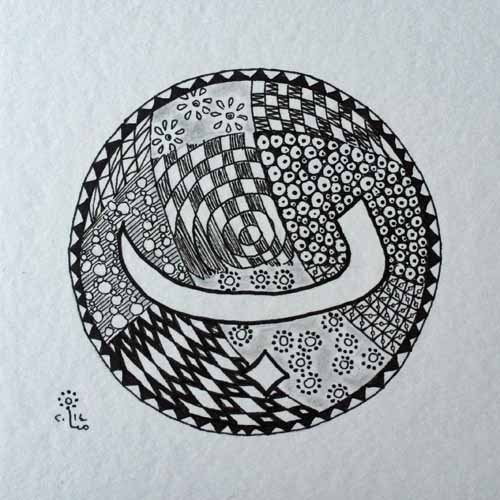 Pigmenttinte auf Aquarellpapier 300g/m2, 15cm x 15cm
Pigment ink on watercolour paper 300g/m2, size: 15cm x 15cm
©Marie-Christine Chammas – alle Rechte vorbehalten – all rights reserved